Fancy a tipple? You've come to the right place. Let's Talk Gin. Every drop of 1881 Gin is taken from our own private spring – Shieldgreen – the very same spring that drew people to 'take the waters' at Peebles Hydro when we opened our doors in 1881. Today, the draw is rather different: Shieldgreen now supplies the gleaming copper stills of our distillery and our attendant gin school. Along with many of the botanicals grown here in the grounds and our very own tonic water, 1881 Gin is trickled, nurtured and perfected by Peebles. Meet the 1881 Gin Family here.
Glimpse behind the distillery scenes with our masterclass in all things gin. We offer a range of distillery tours and experiences where you can try your hand at making your own bespoke blend of gin. Find out more here.
Home to over 90 different kinds of gin, it's hard not to love our Gin Palace. Slap bang in the middle of our hallway, it's pretty hard to miss. The hardest part will be picking your tipple. Relax in the lounge or sun room, and if you're lucky you might even get to catch some sun outside.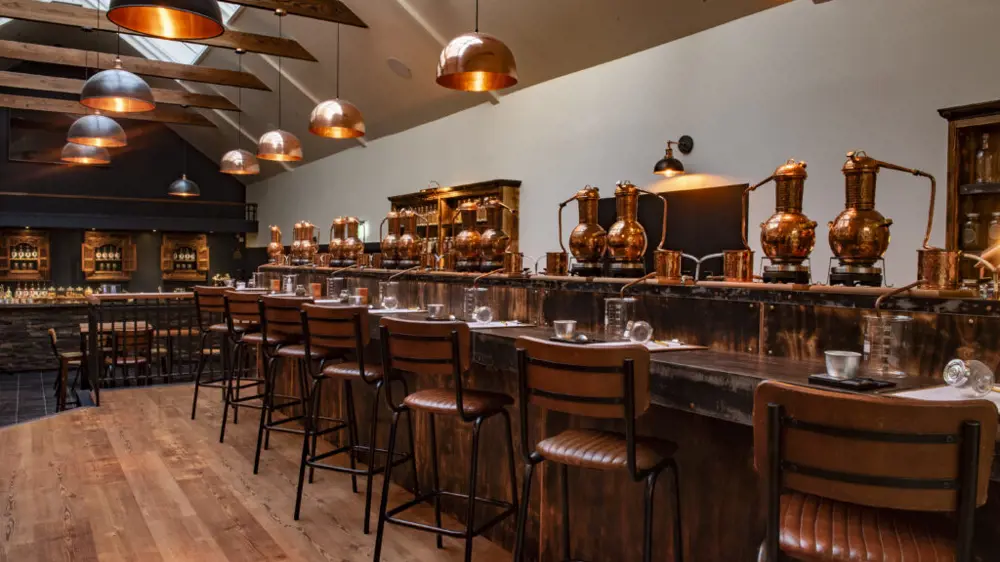 In a separate little building to the right of the main hotel, you'll find Richard busily brewing, fermenting and hopping up his ales. And up at our bar you'll find the finished product.
The one-man brewery operation has been a big hit. You'll see our blonde ale – The Cherub, named after our little statue out the front of the hotel. The Runner Duck IPA is named after our most recent additions to the animal farm down at Peebles 'Hendro' and the ruby ale – The Badger… well, we're not really sure where that name came from, but one thing's for sure – they're all delicious.
It's been a whirlwind of bubbles and froth since Richard came to join us in 2016. He wanted to take advantage of our fresh water supply at Shieldgreen to add a real touch of Peebles to the ales, and of course we wanted to take advantage of the tasty brews.
Richard will even give you a tour around the microbrewery and show you how he turns our water into beer.