Conveniently placed on our doorstep, Glentress boasts over 50 miles of purpose built mountain biking trails and a range of stunning walking tracks around the forest. If you can, it's best to ditch the car, as you have to pay for parking.
The tracks are available to anyone. With the easy green route for beginners right up to the orange – 'extreme' track for those daredevils among us. There's also a black 'severe' trail too, with 18 miles of climbing and thrilling descents.
It's part of the 7stanes world class mountain biking centres that span the south of Scotland, and it's a beautiful spot.
Away from the biking trails you'll have your choice of walks, from a 20 minute stroll to three hours of exploring, plus there's loads of local wildlife to be met along the way.
The Ponds Trail takes you on a wee walk around the ponds. Back in the 70s a violent storm blew over some of the original Douglas firs and the ponds sit where they once stood. You'll walk through some of the surviving firs as you follow the Glen and Buzzard's Nest Trails too. These firs are now over 100 years old and over 35 metres high. Some are now rather well travelled, going on to their afterlife as tall ship masts, while others have been used to construct Glentress Forest Café.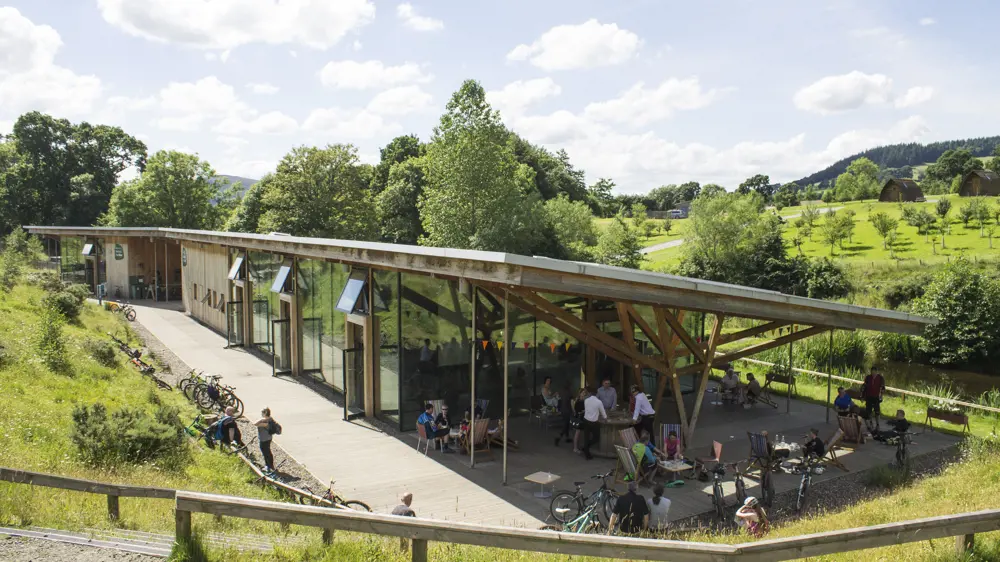 You'll get the chance to bounce back 200 years and find out what it was like to live in the Tweed Valley during the Iron Age on the Time Trail. On the Tower Trail, you'll see panoramic views of the Caddon Hills and a possible encounter with roe deer, badgers and tawny owls make it that extra bit worthwhile. The Buzzard's Nest and Tower trails are more challenging walks, so they'll take a bit longer to complete.
No trip to Glentress Forest is complete without a visit to Glentress Forest Café. Stop in for some of Jen's homemade haggis and pork sausage rolls, delicious chocolate traybakes, lots of hearty carbs and energy packed meals to replenish all that energy you've burned off in the forest.